Food for thought
Used to think adults were much more interesting. I was so very wrong. These past few months were like living a dream. What can I say. They are an amazing bunch. We - adults - could really learn a thing or two from these youngsters.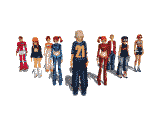 For one thing 'my kids' are far better dancers. Also, according to themselves they smell much more pleasantly ;-). One student told me she usually sits in the back of the classroom except in my classes. Phew, sigh of relief, but why? 'Quite a number of teachers suffer from bad breath or bad body odour.' Ouch ...
That's teenagers for you. Their disarming humor, their brutal honesty. Their unconditional warmth. No hidden agendas. The holidays have yet to begin and already I miss them so very much. What have I done.
The Storm
Impetto V Jerry Ropero ft. Cozi

Living a dream
Places that I've seen
It's nothing without you
Searching my soul
Don't know if you know
I'm nothing without you
Remember when we
We were young and free
Innocent virtues
Searching my soul
Little did I know
I'm nothing without you
And the storm is calling yeah
I miss the sunlight on your face
The rain is falling yeah
Since you left without a trace
The storm is calling yeah
It's all the seasons in one day
You hear me calling
Long to feel your warm embrace.
---